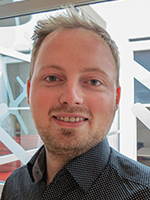 Research interests
Circular Economy – Depolymerization Chemistry
Development of:
efficient catalytic system,
sustainable building blocks,
high performance material
Techniques: NMR, SC-XRD, IR, GC, GC-MS, GPC
Curriculum vitae and education
May 2022 – present
Scientist at CAT Catalytic Center, ITMC, RWTH Aachen
September 2018 – March 2022
PhD student at Institute of Inorganic Chemistry at RWTH Aachen University with Prof. Dr. Jun Okuda
Area: Design and application of Z-type ligands in transition metal complexes for homogenous catalysis
October 2016 – April 2018
Chemistry studies (Master) at RWTH Aachen University
Master thesis with Prof. Dr. Jun Okuda
Octobter 2011 – April 2016
Chemistry studies (Bachelor) at RWTH Aachen University
Bachelor thesis with Prof. Dr. Jürgen Klankermayer
Selected publications
1) How Cationic Metalloligands Affect the Coordination of Lewis Basic Ligands in RhI Complexes
Julian P. Schroers, Max N. Kliemann, John M. A. Kollath, and Michael E. Tauchert* Organometallics 2021, 40, 3893–3906.
2) Evaluation of Pd→B Interactions in Diphosphinoborane Complexes and Impact on Inner-sphere Reductive Elimination 
Ritter, L. John, T. Schindler, J. P. Schroers, S. Teeuwen, M. E. Tauchert* Chem. Eur. J.2020, 26, 13436-13445.
3) Highly Efficient Palladium-Catalyzed Carbon Dioxide Hydrosilylation Employing PMP Ligands
Patrick Steinhoff, Melanie Paul, Julian P. Schroers, Michael E. Tauchert* Dalton Trans. 2019, 48, 1017-1022.