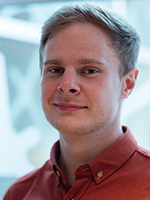 Research interests
Monomer synthesis, purification and characterization
Polymer synthesis from renewable resources
Techniques: NMR, FTIR, DSC, TGA, GPC, UV/VIS, PL, MS, Gas sorption
Curriculum vitae and education
June 2021 – present
Postdoctoral Fellow at CAT Catalytic Center at ITMC, RWTH Aachen University, Germany
December 2017- March 2021
Ph.D. Student at Bergische Universität Wuppertal, Germany
Topic: Conjugated polymers for sensor applications under supervision of Prof. Ullrich Scherf
March 2019 – May 2019
Visiting PhD student at University of Liverpool, United Kingdom with Prof. Andrew I. Cooper
April 2016- December 2017
M.Sc. Chemistry at Bergische Universität Wuppertal, Germany
October 2012- April 2016
M.Sc. Chemistry at Bergische Universität Wuppertal, Germany
Selected publications
1) Fluorescence Studies on a Thermoresponsive PNIPAm-grafted Polyfluorene. Cunha C.; Klein P.; Rosenauer, C.; Scherf, U. and Seixas de Melo, J.S. Macromolecules 2021, 54, 16, 7612.
2) Spiropyran‐Functionalized Polymer–Carbon Nanotube Hybrids for Dynamic Optical Memory Devices and UV Sensors. Balcı Leinen, M.; Klein P.; Sebastian F. L.; Zorn N. F.; Adamczyk S.; Allard S.; Scherf U.; Zaumseil J. Adv. Electron. Mater. 2020, 6, 2000717.
3) Designing highly fluorescent, arylated poly(phenylene vinylene)s of intrinsic microporosity. Rodrigues A. C. B.; Geisler I. S.; Klein P.; Pina J.; Neuhaus F. J. H.; Dreher E.; Lehmann C. W.; Scherf U.; Seixas de Melo J. S. J. Mater. Chem. C 2020, 8, 2248.
4) Doping-Dependent Energy Transfer from Conjugated Polyelectrolytes to (6,5) Single-Walled Carbon Nanotubes. Balcı Leinen M.; Berger F. J.; Klein P.; Mühlinghaus M.; Zorn N. F.; Settele S.; Allard S.; Scherf U.; Zaumseil J. J. Phys. Chem. C 2019, 123, 22680.
5) Aromatic polymers made by reductive polydehalogenation of oligocyclic monomers as conjugated polymers of intrinsic microporosity (C-PIMs). Klein P.; Jötten H. J.; Aitchison C. M.; Clowes R.; Preis E.; Cooper A. I.; Sprick R. S.; Scherf U. Polym. Chem. 2019, 10, 5200.
6) Tetraphenylethylene-BODIPY aggregation-induced emission luminogens for near-infrared polymer light-emitting diodes. Baysec S.; Minotto A.; Klein P.; Poddi S.; Zampetti A.; Allard S.; Cacialli F.; Scherf U. Sci. China Chem. 2018, 61, 932.
Awards and Scholarships
March 2019
Erasmus+ funded staff training at University of Liverpool, United Kingdom
September 2019
Travel grant for the "2nd International Symposium on Porous Organic Polymers, funded by the Fachgruppe Makro, GDCh
Oktober 2018
FABU (alumni association, Bergische Universität Wuppertal) award for outstanding master thesis